About WTF - Winning The Fight
Our court program consists of two sections  First is a viewing of the documentary "Just Once" and three written paragraphs of what they thought of the film.  The second part is a viewing of the video presentation on "Specific Drugs", how they act in your body and the possible consequences of those drugs.  Once viewed they list a few items that they did not know prior to the video and then 12 multiple choice questions.
Our programs are well suited for Court mandated classes, as well as school and group organizations.  Once a person completes the program, notification gets sent to the court.  This is appropriate for ages 12 and older.
For more information, please contact Kathy@WTF-WinningTheFight.org.
WTF – Winning The Fight is a non-profit, 501(c)(3) organization that provides drug education, support, and necessary resources to youth and families that suffer from the disease of addiction.
WTF was developed after losing our son, Brett Morgan O'Keefe, to an accidental drug overdose. He fought and lost. We choose to be a part of Winning, not losing. Brett was well known for using the "WTF" in a loving and kidding manner. So, we used the initials and changed the meaning to something positive.
There is a resurgence in drug addiction all over America that is coming back in a very real way. Most of the time it starts with prescription pills, but quickly leads to more extreme drugs. People that are affected by this are not psychologically disturbed, junkies or criminals, but normal kids that come from very normal families. The Center for Disease Control declared that in 2017, 72,000 people died from drug overdoses. That is one person every 7.3 minutes. Of those numbers, 49,000 were from opioids.
Our goal is to educate. Most families do not educate themselves to the destruction of addiction until it happens to them and then it becomes necessary. They make drug use a moral issue when it is not. Our goal is to help parents realize that this can happen to normal families. This is happening in areas all over America. If no one speaks out, we cannot change the stigma and the judgment.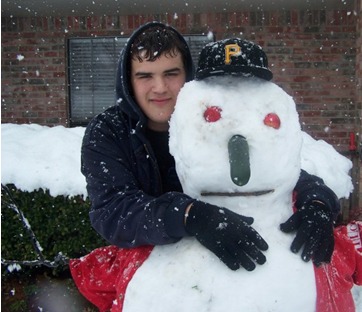 Brett Morgan O'Keefe
January 28, 1992 – March 20, 2010